The lovely Christina Henck talks Design with Neal Edwards
Jun 17th 2020
Executive Creative Director Neal Edwards had an informative chat with the beautiful and smart Christina Henck of Henck Design in Philadelphia. Make a drink - you probably have all the classic ingredients on hand - and watch the recording here.
Christina's "make it your way" NOLA style drink
Ingredients: Vodka, lemon, simple syrup and a splash of Peychaud's bitters to taste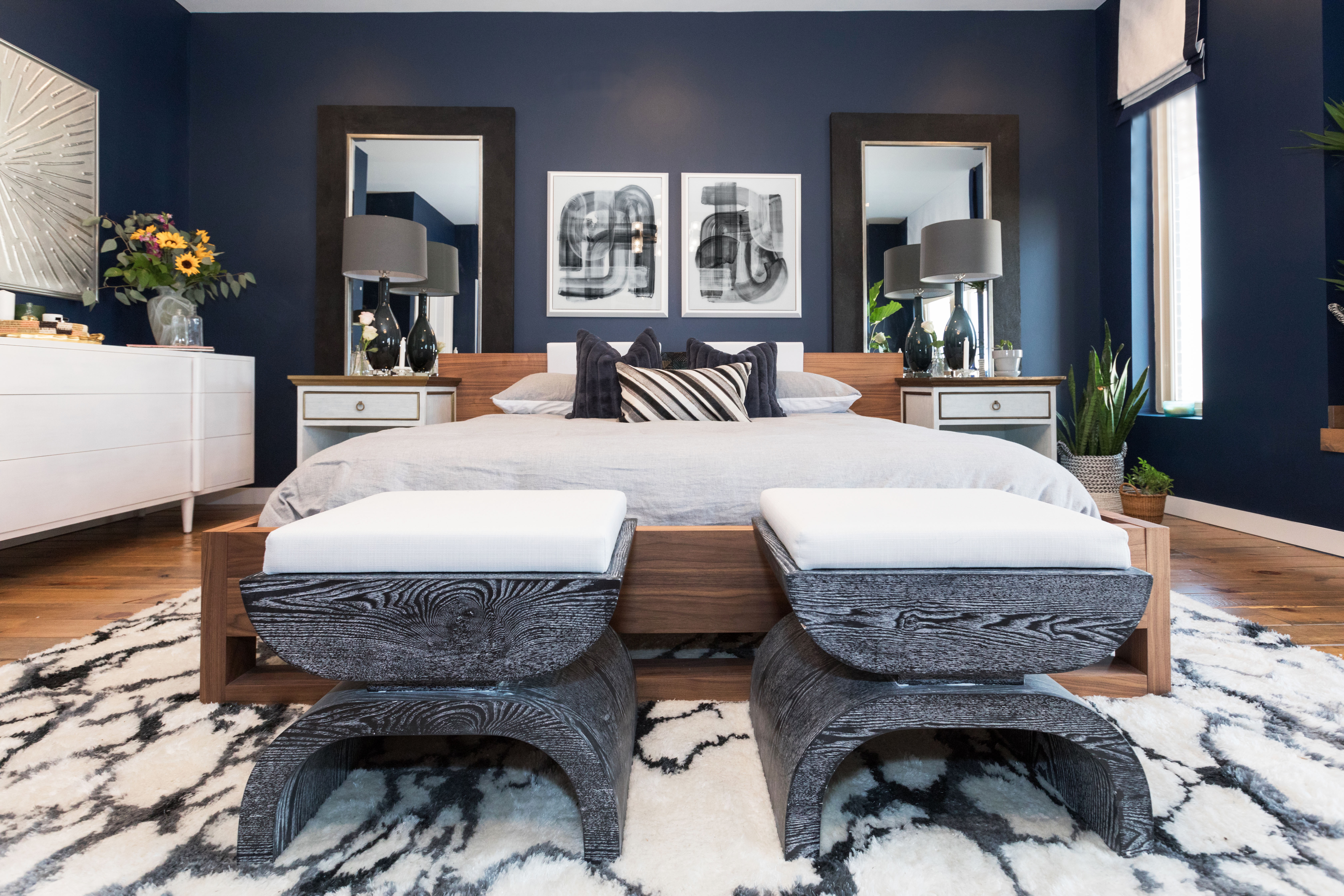 Love this design! Not too masculine or too feminine. The bold wall color becomes the star when surrounded by neutrals, but our black cerused oak BIGGS BCO stools could not be more perfect in the space picking up on the subtle patterns found throughout the room.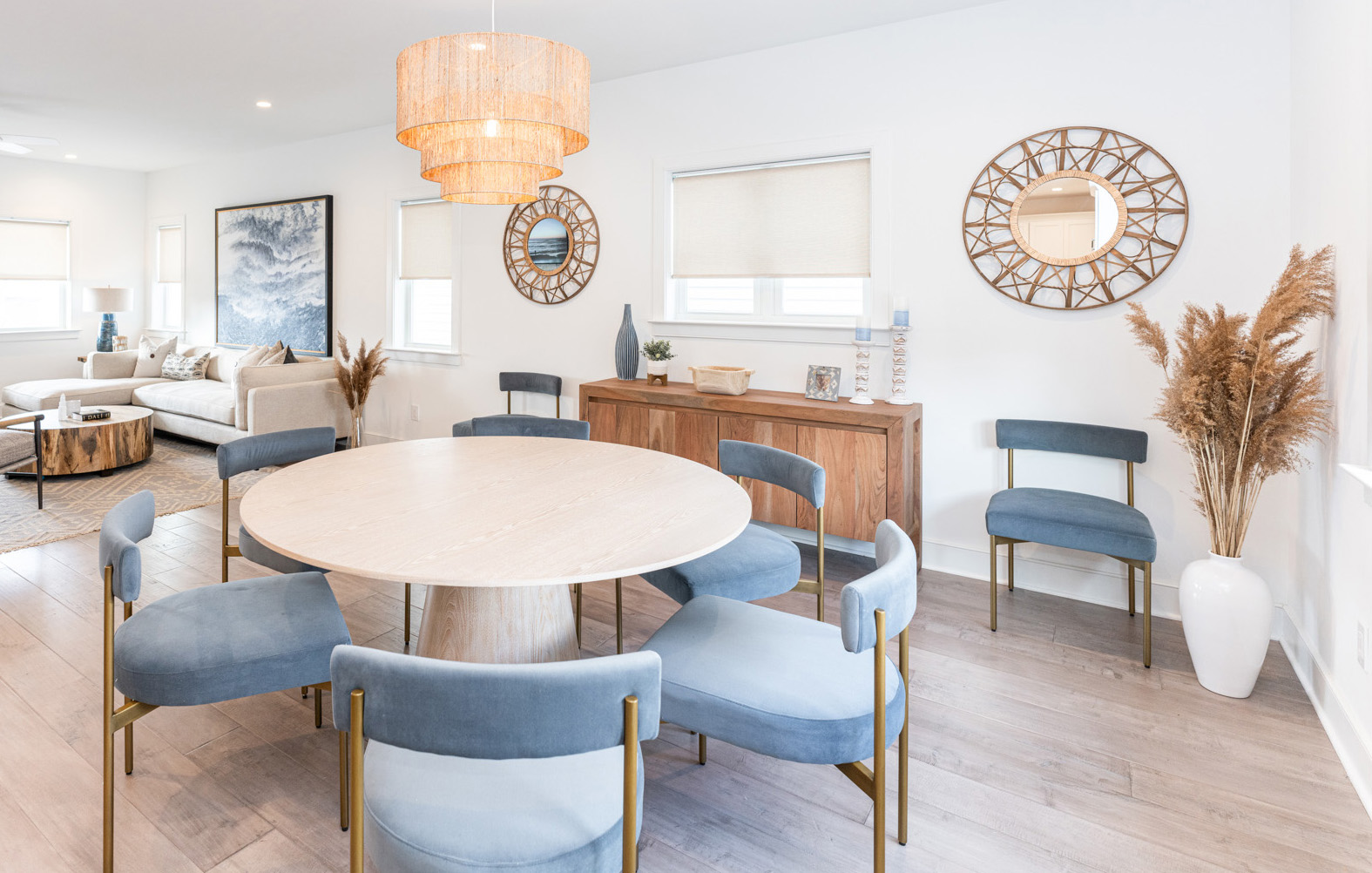 Our HAMILTON CO table sets the mood in this dreamy beach house. It's exactly the kind of place I want to have wine, play cards, and dine on seafood - either all at once or separately. Christina talks more about this NJ design below. Enjoy!
We were working on a collab with Christina looooonnnnggggggggg before COVID spread to the USA and had sent her a Q and A for a blog post, and she graciously completed it below. She gives great advice and has such thoughtful answers. Read on!
You've been a customer of ours for a long time. How did you first hear about Worlds Away?
I first heard of Worlds Away in 2010 when I worked at my first design firm as a straight out of college. I remember seeing the catalogue and loving the bold colors used by the product designers.
What are some trends you see in your area?
I've been seeing a lot of clients who are drawn to gold accents and an overall glamorous feel. People seem to be open to light colors, and light wood tones rather than dark wood finishes lately. Grass finishes and caning alongside Scandinavian accents, well you guys are great at it, and it's very on-trend in recent years.
I think when gold accents are combined with curved lines, a glamorous feel comes across for an interior design. I've been using a lot of light wood tones to integrate a sort of sophisticated-Boho, and beachy feel.
How do Worlds Away products fill those needs in your designs?
Worlds Away is my favorite resource for small cabinets, sideboards, nightstands and mirrors. I am also in LOVE with WA upholstered goods.
As a designer I'm very sensitive to the cushions that companies use, and some "off the rack" items verses custom, many times have cushions that are a bit too firm. I've always found that Worlds Away's cushions are super while I find soft cushions for the backs as well as seats in their chairs and stools.
Are there any pieces you would like to see from Worlds Away that we don't currently have in our line?
I think a product line that would perform well for WA is upholstered and gloss paint finished beds. I think finishes like channel tufting in fabric and using vegan leathers and snake skin/animal prints would be a great addition as well.
I think textural headboards with nail heads would be icing on the cake alongside the existing Worlds Away collections. I can see things that are reminiscent of old Hollywood being a great fit. Think of femme and classic glamour – very Elizabeth Taylor! We might be able to make that happen! LET'S COLLABORATE!
When did you know you wanted to be a designer?
At an early age I went "Antique-ing" with my parents frequently. Because my mother has incredible taste that's varied and unique (she grew up in Japan which certainly added a spin on design for me!) and my father was a respected architect, I had a lot of insight on aesthetics in my childhood. These two combined points-of-view influenced me greatly and I got great insight on why certain styles looked a specific way.
Additionally, because I grew up in a beach town in South Mississippi, was exposed to all different sorts of architecture. Among them were bungalows, plantation style homes, riverside homes and a ton of hospitality design – there were casinos all around my area in Biloxi, MS.
I used to drive to the casinos when I was a teenager and walk through the gift shop areas and long gorgeous corridors just to sketch the ceiling styles, light fixtures, retail displays and indoor plant installations. Hospitality design was and is a source of major inspiration for me.
From where do you draw your inspiration?
Much of my inspiration in my personal life comes from nature. I adore texture, hides, grass finishes, and my countless indoor plants – they're all around!
When it comes to serving design clients, I think learning their stories, travel, and the local environment gives the most insight on who they are

What influences your designs and aesthetics?

Fashion has always been is always a source of vision for me in my design work. Interior Design follows fashion, so the colors that trend on the runway, do the same at our furniture markets.
I love seeing the latest looks on models down the runway, and I consciously w also pay a lot of attention to how they're styled. Is it minimal? Is it over the top? What kind of jewelry did they pair with the look?
Is it ornate or understated?
To be completely honest, the Kardashians are also another huge source of inspiration to me. They're fashion forward, several of the family members have used Martin Lawrence Bullard (who I'm a huge fan of) to do their homes. Bullard is is a master of creating a chic, worldly look that's glamorous.
Do you have a favorite project you've worked on so far?
In Ventnor City, NJ, I recently completed an overall with a great color palette. This design job's been one of my favorite beach homes I've done in years!
I designed it to feel minimal, by using an overall neutral color palette. There are some pops of blue tones that reinforces a sense of my "modern bohemian" aesthetic. This project made me realize that California is a source of inspiration for me all around, even when designing East Coast projects.
You'll notice I specified a Worlds Away dining table here. (see photo above)

What words of wisdom would you give to someone just getting started in the design field?

Get a PHD in people.
Over the years, I've studied everything from astrology, DISC assessments, personality types, and I'm always psycho-analyzing everyone around me!
There's only so many personality types in the world, and I've found that no matter who you're dealing with – if you can figure out in advance, what kind of person you're dealing with and where they're coming from, you can work with (almost) anyone!!
What do you feel is the most important aspect when designing a space?
I love to work in layers – for residential clients, you have to figure out how many layers they're open to. For example, a minimalist client only wants 2 or 3 layers and a client who likes more traditional and transitional elements tend to like more than a few decorative accessories. Vases, floral arrangements, wallpapers, moulding details, layered patterns etc. We designers know that is what layering is ALL about!
What exciting things are on the horizon for you?
Henck design has a new designer Showroom in the works – We've recently signed with a major athlete in the Philadelphia area who's buying a new custom home.
We've got plenty going on in 2020 and are always "uping the ante" when it comes to taking on larger jobs. We will likely be wrapping up a high-end golf club this time next year. So, yes there's a lot on the horizon for Henck Design in the coming year!
Designing for you,
Christina Henck,
Henck Design